Hemp Flour Gingerbread Men
Christmas baking is a fond holiday tradition for a lot of families - so why not add a little hemp goodness into the mix? The nutty flavour of our hemp flour makes these gingerbread men even more delicious than usual!
---
Prep time: 1h
Cook time: 20 mins
Difficulty: Intermediate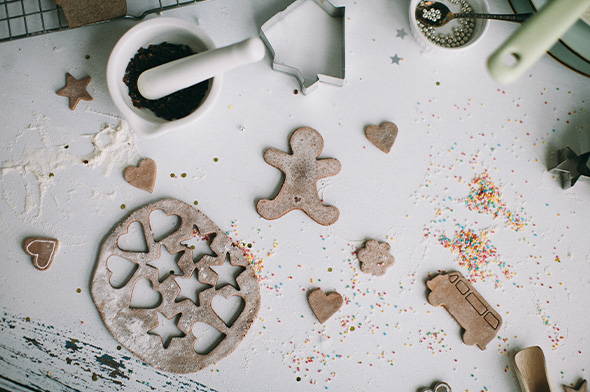 INGREDIENTS
BASE                                                   
300g of bran flour
30g hemp flour
200g cane sugar (unrefined)
50g of butter
2 eggs
1tsp of baking powder
Zest of 1 lemon
2tsp of freshly grated ginger
Powdered spice mix: 1 teaspoon of cinnamon, 1/2 of cloves, 1/2 of white pepper (or as you like)
1 pinch of salt

ICING
2 cups of icing sugar
1 1/2 tablespoon of cream of tartar
2 1/2 tablespoons of water (lukewarm)
Food colouring of your choice

Recipe by CBD Weed.

METHOD
COOKIE PREPARATION
In a large bowl, mix the butter at room temperature (or softened in a bain-marie) with the sugar and the eggs, using a spatula, until the well mixed. Add ginger, powdered spices, salt and lemon peel, and mix again.

Add the flour and the yeast to the mixture, just a little at a time being careful not to form lumps.
Keep adding them until the mixture forms a compact dough ball, then place it in the fridge covered with a damp cloth for at least an hour.

After that, roll the dough to a rolling pin on a clean and floured surface, make it about 3 mm thick, and then cut it with the biscuit mold. Arrange the gingerbread men on a baking sheet covered with baking paper, making sure that the various forms do not touch or are not too close to each other.

Then cook at 170 ° C (preheated) for about 15-20 minutes.
As soon as they are cooked, the biscuits take on a beautiful golden colour. If they are overcooked, they will have some unaesthetic cracks and become excessively crunchy, so it is important to keep an eye on the oven. Once cooked, let them cool on the tray.
COOKIE PREPARATION
Put all the ingredients for the icing in a bowl and mix them well.
Divide the mixture into two or more bowls to make different colours; one bowl, usually the white icing, should have more than the others.
Add a couple of drops of food colouring of your choice to the different bowls of icing.
Pour the icing into pastry bags to decorate the gingerbread men, starting with the white glaze. Do all the white decorations first before moving on to the coloured ones. If you plan to use other decorations, place them while the glaze or icing is still fresh so that it can act as glue.
Once finished, let them dry for at least a couple of hours in a cold room before moving them.