Hemp Baked Cheesy Cauliflower Bites
This is the ultimate TV snack! So much better for you than shovelling empty cardboard carbohydrate calories into your face, this delicious and satisfying low carb, low calorie vegan treat supports your body with energy and nutrition. Chilli lovers take note - this one goes very nicely with hot sauce!
---
Prep time: 10 mins
Cook time: 35 mins
Difficulty: Easy
Serves: 2-4 (depending on hunger!)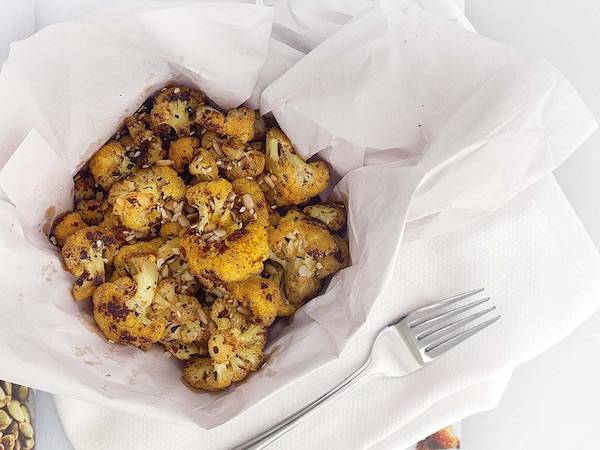 INGREDIENTS
½ cup dates pitted – soaked for 5 mins
½ cup hemp protein
1 cup almond meal
1 tbsp cacao
1 lemon zest
1 tbsp Almonds chopped
½ cup coconut oil
Goji berries for topping
Recipe by Danielle Cutri.
METHOD 
Preheat oven to 180 degrees Celsius
Roughly chop cauliflower and spread out over baking tray
Coat cauliflower in hemp and coconut oil
Mix through nutritional yeast, turmeric powder, salt and pepper
Bake in oven for 25-35 minutes, turning after 15 mins, until golden brown and crispy
In a fry pan, toast mixed seeds with spice mix, and a dash of salt
Top toasted cauliflower bites with nuts and seeds, add to dishes as a side dish or salad (or on its own!)