Vegan Hemp Flour Cinnamon Sugar Donuts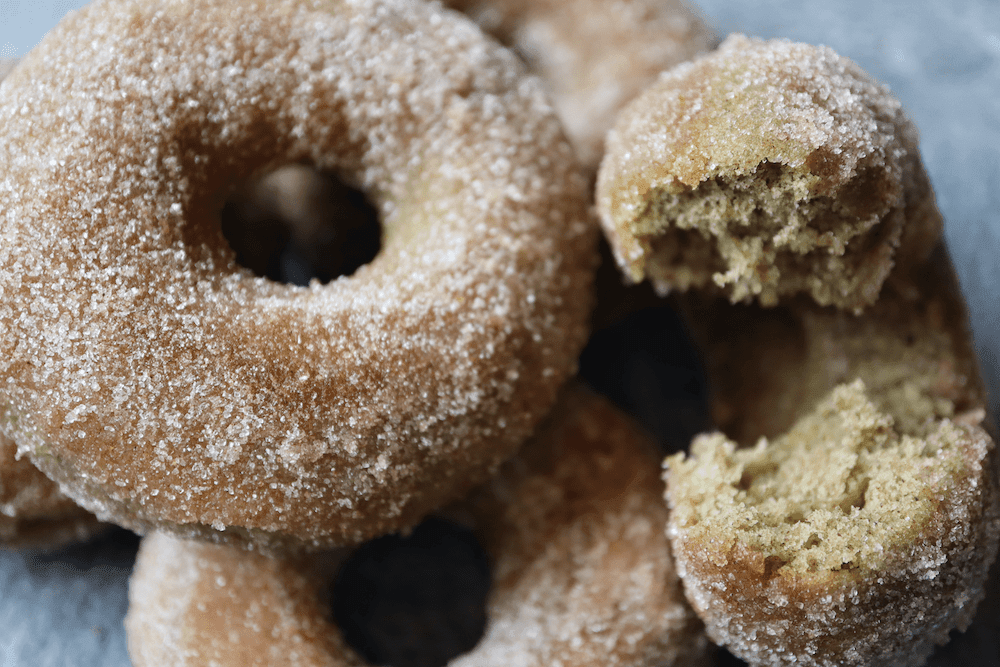 Who wouldn't like a healthier donut? These are baked, not fried, and contain extra fiber and other nutrients derived from hemp flour. They are quick and easy to make. You can whip them up in in 20 min!  Enjoy them (in moderation) without the guilt!
Ingredients
Dough:
 1/2 cup hemp flour
 1/2 cup all purpose flour
 1/2 cup granulated sugar
 1 teaspoon baking powder
 1/4 teaspoon salt
 1/2 teaspoon ground cinnamon
 1/2 cup + 2 tablespoons soy milk
 1 tablespoon applesauce
 1 tablespoon melted vegan butter
 1 teaspoon pure vanilla extract
Topping:
 1/2 cup granulated sugar
 1 teaspoon ground cinnamon
1/4 cup melted vegan butter
Instructions
Preheat the oven to 180 degrees and spray a donut pan with non-stick spray.
Whisk the flours, sugar, baking powder, salt and cinnamon in a large bowl. Pour the soy milk, applesauce, melted vegan butter (1 tablespoon) and vanilla into the bowl with the dry ingredients. Mix well with a large wooden spoon to combine. The batter will be similar to cake batter; not too thick but not very runny either.
Spoon the batter into the donut pan, OR fill a large ziplock bag with the batter, cut a hole in the corner and pipe into the pan, filling about 3/4 of the way full. Be careful not to overfill, as the donuts will rise and you might lose the "hole" of your donut.
Bake for 9-10 minutes or until the edges are lightly golden brown. If your donut pan is larger than mine, they could take a few extra minutes to bake. Let cool for two or three minutes in the pan, then carefully transfer to a wire rack with a large piece of parchment paper beneath it (to help with the mess).
For the topping
Stir together the sugar and cinnamon for the topping in a medium bowl, and melt the vegan butter in a separate bowl.
Dip the donuts into the melted butter, both sides or just one side if you prefer. Then dunk the donut into the cinnamon sugar mixture to coat.
Serve immediately, or within one day for best results. Leftover donuts will keep for two days at most, covered and at room temperature.
Serves: 8, prep time: 10 min, cooking time: 10 min
This is a modified version of an original recipe by Nora Taylor