HEMP SEED & FLAX OIL FOR PETS

THE ULTIMATE POWER ARMOUR FOR PETS
---
The ultimate power armour for pets! Hemp Seed & Flax Oil is an excellent short-term supplement to animal diets. The addition of flax means increased Omega 3, while the oil pressed from the hull of the hemp seed means an increase in fibre, protein and amino acids. While our Hemp Seed Oil For Pets[link] is best for daily use, Hemp Seed & Flax Oil will elevate the health of your pet during those times when they need an extra boost. Very helpful for animals suffering from anxiety disorders, as the increased levels of tryptophan are a precursor to producing serotonin, a neurotransmitter which helps regulate mood, sleep, memory, social behaviour, appetite and digestion. Many studies demonstrate links between depression and a lack of serotonin. We're so confident in this product that we guarantee you'll see a difference by the end of the bottle...or your money back. Bet your last dealer didn't say that.
Packed with Omega 3 and Omega 6 in the perfect ratio (3:1), this is great news since animals need fatty acids just the same as humans do. Helps prevents skin disorders such as dry nose, acne, eczema, rash and dandruff, and can also enhance blood circulation. Plus, it can thicken fur texture and lessen shedding, so our animal friends look their best!
Contains 100 doses, suitable for a 3 month supply. For best results, place drops directly into your pet's mouth, ideally under the tongue. Not advisable to add to skin: Hemp Seed & Flax Oil is bot as smooth and refined as our cold-pressed Hemp Seed Oil For Pets, which is ideal for topical use.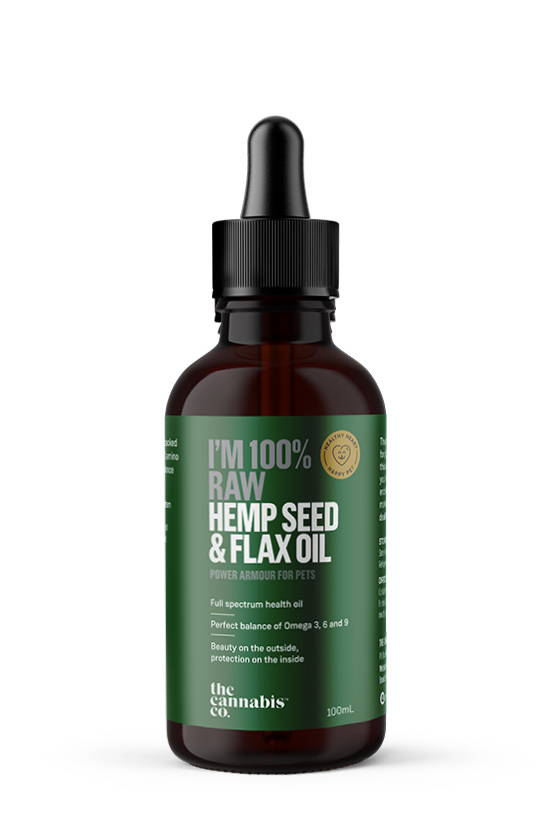 ---
HIGHER OIL FOR THE ANIMAL WORLD
---
Most pet foods are basically the same as "fast food" for humans – although our little mates scoff it up (and love the taste), they're not getting the nutrients they need for health and happiness. Almost all commercial animal feed is extremely low quality in terms of nutrition, and even worse, the majority are full of synthetic chemicals and vitamins which are toxic and can result in harm. Practically all commercial pet food is very low quality nutrition and loaded with synthetic vitamins and other chemicals that result in your pet suffering nutritional deficiencies and toxicity. Whether added to food or used externally, you'll see the difference within a matter of weeks – not only will their coats, ears, eyes, joints, nails (or claws/hooves/trotters!) and teeth improve, but their mood will be elevated, and they'll even have better breath! In fact, you'll notice such a positive difference that you might even suspect the little critter's high on something... We're so sure of this, we'll give you your money back if you don't see a difference.
Hemp seed oil is better than fish or flax seed oils because it naturally has the perfect Omega 6 to Omega 3 ratio (3:1) of fatty acids which animals need just the same as humans do. Hemp oil moisturises skin and fur better than any other substance because it's herbal and has virtually no side effects. It prevents skin disorders such as dry nose, acne, eczema, rash and dandruff, and can also enhance blood circulation.It improves heart functions and helps keep your pet's brain really healthy, leading to a longer (and happier) life. Plus, it can thicken its fur texture and lessen shedding, so our animal friends look their best!
Add to food – though if your pet is anything like our dog, they'll lick it right off the spoon! Most pets only need a little bit. 4 drops for a medium-sized dog and 8 for a St Bernard. For a medium-sized cat, 3 per day. After a few days or a week, you'll start to notice a positively glowing coat, and any pain or skin conditions will have begun to heal. Cornell University College of veterinary medicine has developed a dosage guide for animals:
Advised Animal Dosage:
1ml for 10 kg weight
1.5ml for 20 kg weight
2ml for 30 kg weight
2.5ml for 40 kg weight
3ml for 50 kg weight
3.5ml for 60 kg weight
4ml for 70 kg weight
4.5ml for 80 kg weight
5ml for 90 kg weight
Hemp Seed Oil is also great for external use with animals. It alleviates dry skin, strengthens nails, is great for a sore cracked nose or paws, and helps relieve joint pain.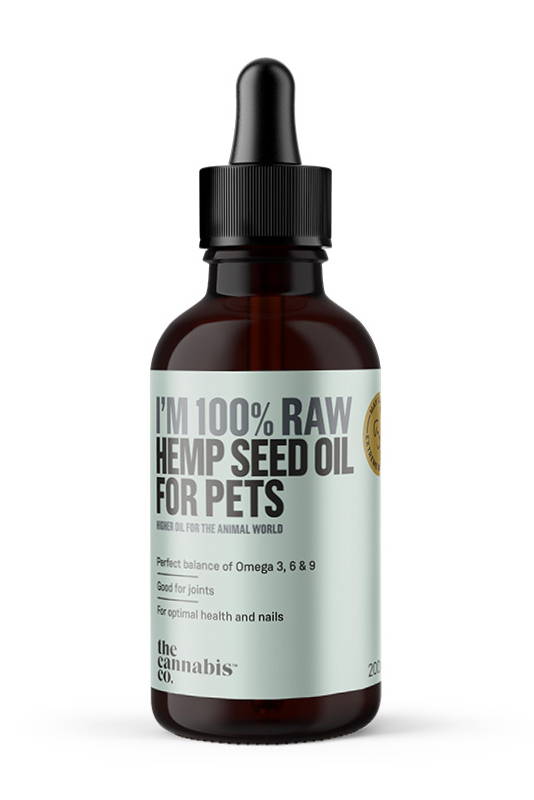 ---
---
Munchies for pups! The healthy alternative for your dog. Our furry mates don't need colouring or preservatives – what they need is abundant nutrition in a delicious snack. Packed full of protein, with the perfect balance of omega fatty acids, doggo will enjoy these so much that you'll want to have a nibble yourself. These cannabiscuits are vegan and specially formulated for pupper's health from just two ingredients – hemp and chickpeas.
High in protein, iron and fiber, our cannabiscuits are a great source of Omega 3 and Omega 6 in a perfectly balanced ratio of 3:1, meaning pooch can get the most! Containing all 20 amino acids, these biscuits are also a source of calcium, B vitamins, magnesium, vitamin E and a variety of other nutrients.
Present to pooch on a silver dish. Or just chuck it to 'em straight from the packet!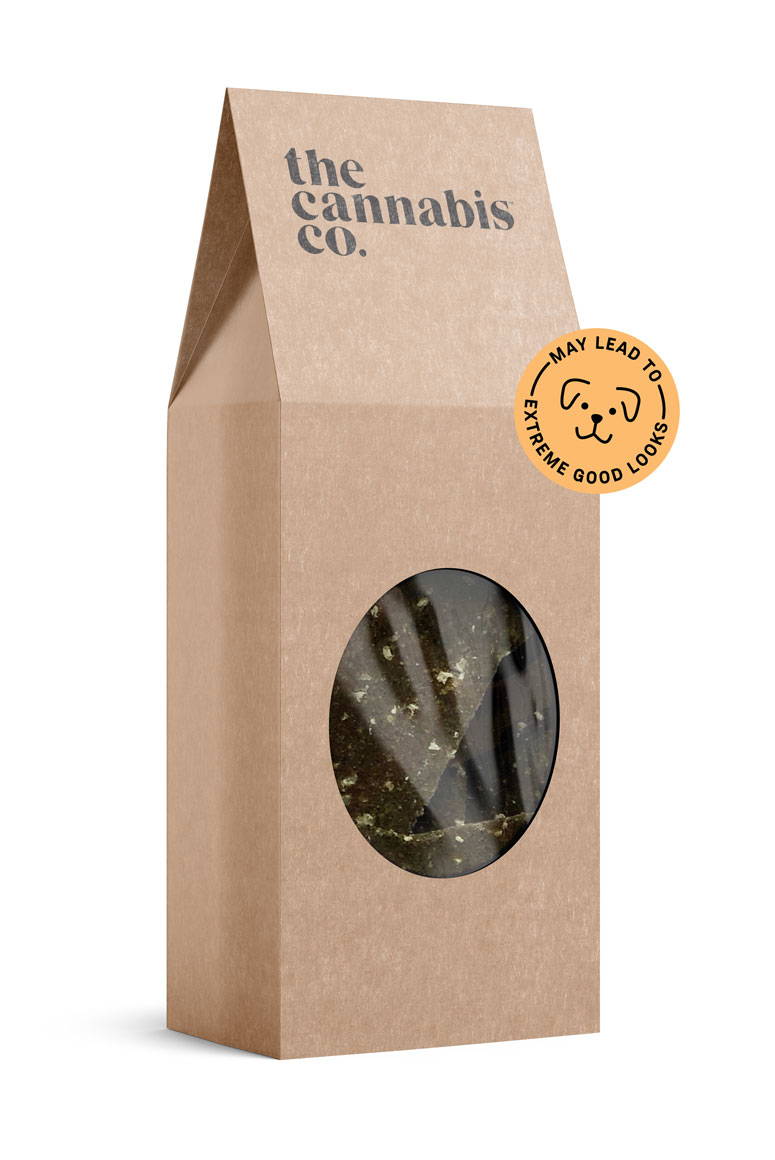 ---
WILL RESULT IN MORE RELAXED WALKS. POSSIBLY.
---
These 100% hemp dog leashes are anti-bacterial, eco-friendly and hypoallergenic. They're also very durable, due to Hemp's natural strength. For good dogs only!
Will result in more relaxed walks. Possibly.
Just clip it on and off you trot!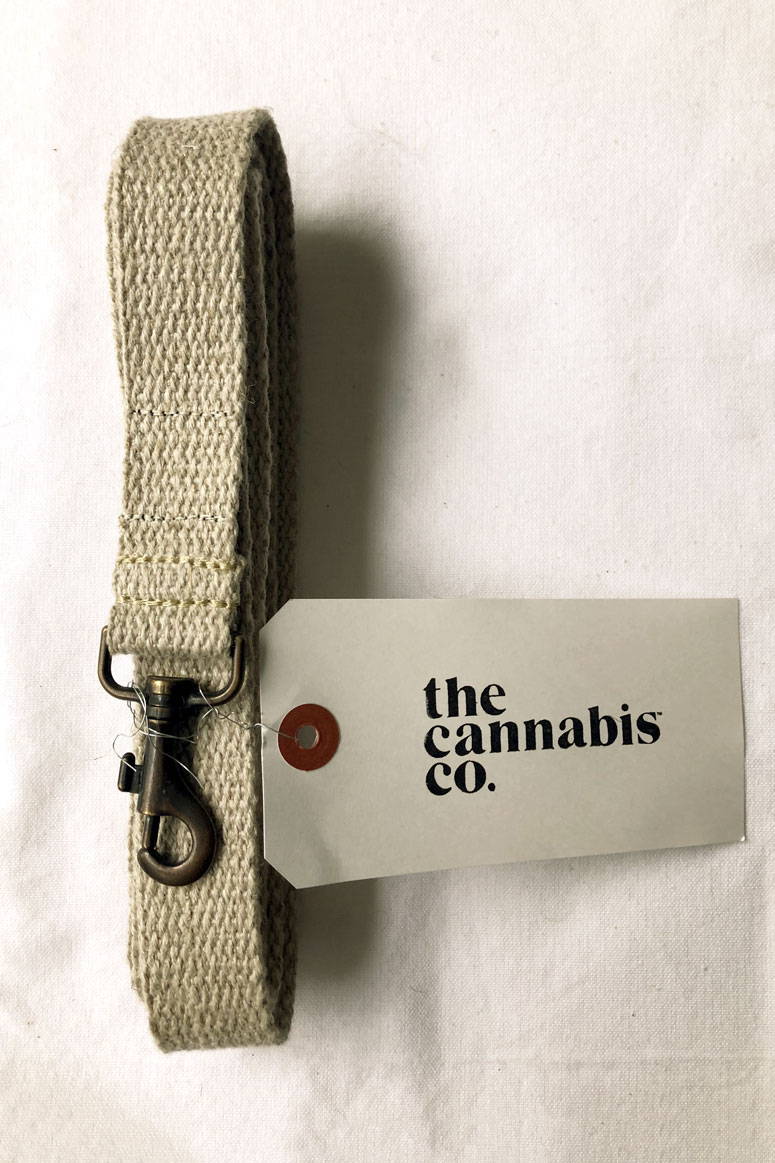 ---
---
[Two sizes - 12mm and 20mm] Our 100% hemp dog toys are anti-bacterial, completely biodegradable, eco-friendly and hypoallergenic. They're also very durable, due to Hemp's natural strength. Dogs go absolutely bananas for these toys, probably because they're unprocessed and have a wholesome smell – just like ropes from hundreds of years ago. For smaller breeds, get the 12mm one – for larger, the 20mm.  
Just give it to doggo - they'll know what to do!