HIGHER OIL FOR THE MIND, BODY AND SOUL
---
Hemp Seed Oil is considered THE most balanced oil in all of nature. For nutrition, it is unparalleled. Used for both food and body care, whether you eat it or massage it into your skin, Hemp Seed Oil provides a range of necessary nutrients and helps prevent a variety of common diseases. We're so certain you'll see a difference before the end of the bottle that we're offering a Money Back Guarantee.
Hemp Seed Oil contains two essential fatty acids: omega 6 and omega 3. They're "essential" because our body cannot make them, so we need to have them in our diet. They're necessary for cell and body growth, maintenance of cell membranes, reducing inflammation and keeping our hearts healthy. Unlike other common sources of omega oils, Hemp Seed Oil provides the right balance of omega-6 to omega-3 in a 3:1 ratio. This means your body can properly absorb it, as without the right balance, it can actually be detrimental. Our hemp seed oil contains Vitamin E, an antioxidant which helps protect your cells from free radicals. It also contains plant cholesterol, which reduces bad cholesterol in your body and helps regulate your weight. Our cold-pressed Hemp Seed Oil also provides a ton of other beneficial nutrients.
When you eat Hemp Seed Oil, all you need is one teaspoon a day. This will meet your daily needs for all the nutritional goodness contained in those wonderful little hemp seeds. Use hemp oil in smoothies, salads, vegetables and pasta dishes. To conserve the essential fatty acids, we suggest you use it raw or gently heated. Hemp Seed Oil is also great for external use. It alleviates dry skin, strengthens nails and heals cuticles, helps relieve joint pain, works well to remove makeup, as a facial mask, it reduces acne and relieves eczema, and it's even an excellent hair conditioner!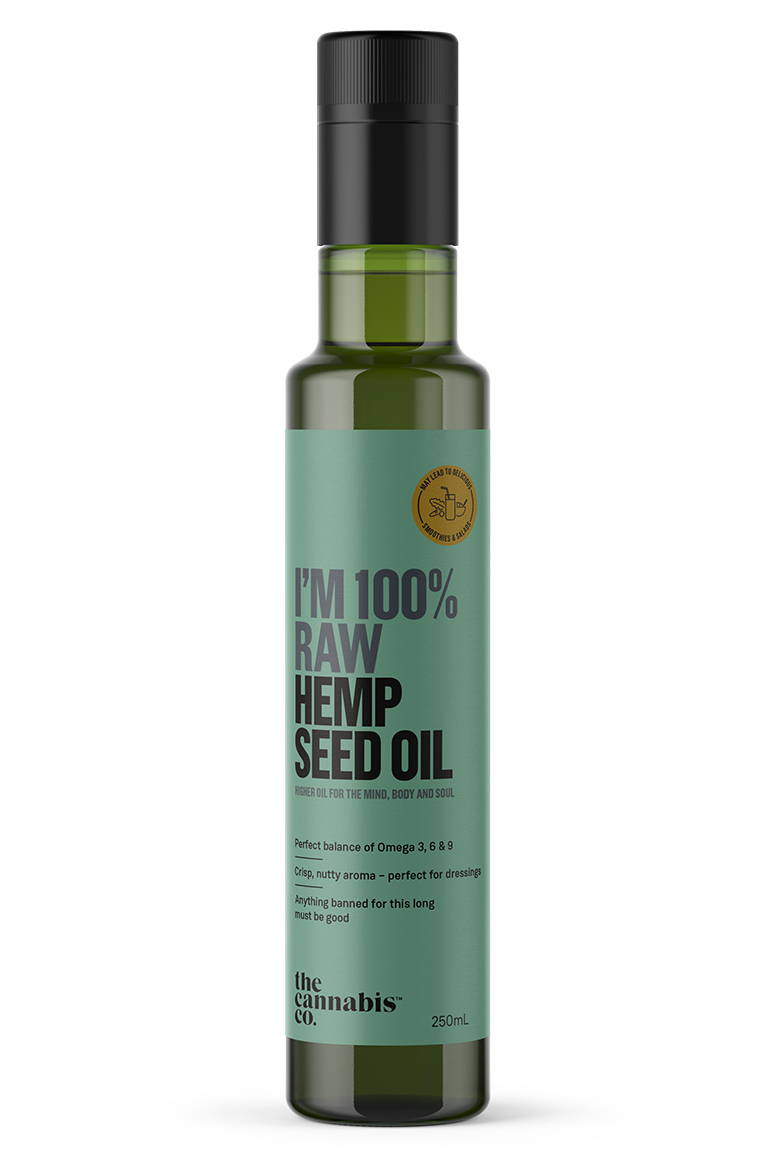 ---
HIGHER OIL FOR THE ANIMAL WORLD
---
Most pet foods are basically the same as "fast food" for humans – although our little mates scoff it up (and love the taste), they're not getting the nutrients they need for health and happiness. Almost all commercial animal feed is extremely low quality in terms of nutrition, and even worse, the majority are full of synthetic chemicals and vitamins which are toxic and can result in harm. Practically all commercial pet food is very low quality nutrition and loaded with synthetic vitamins and other chemicals that result in your pet suffering nutritional deficiencies and toxicity. Whether added to food or used externally, you'll see the difference within a matter of weeks – not only will their coats, ears, eyes, joints, nails (or claws/hooves/trotters!) and teeth improve, but their mood will be elevated, and they'll even have better breath! In fact, you'll notice such a positive difference that you might even suspect the little critter's high on something... We're so sure of this, we'll give you your money back if you don't see a difference.
Hemp seed oil is better than fish or flax seed oils because it naturally has the perfect Omega 6 to Omega 3 ratio (3:1) of fatty acids which animals need just the same as humans do. Hemp oil moisturises skin and fur better than any other substance because it's herbal and has virtually no side effects. It prevents skin disorders such as dry nose, acne, eczema, rash and dandruff, and can also enhance blood circulation.It improves heart functions and helps keep your pet's brain really healthy, leading to a longer (and happier) life. Plus, it can thicken its fur texture and lessen shedding, so our animal friends look their best!
Add to food – though if your pet is anything like our dog, they'll lick it right off the spoon! Most pets only need a little bit. 4 drops for a medium-sized dog and 8 for a St Bernard. For a medium-sized cat, 3 per day. After a few days or a week, you'll start to notice a positively glowing coat, and any pain or skin conditions will have begun to heal. Cornell University College of veterinary medicine has developed a dosage guide for animals:
Advised Animal Dosage:
1ml for 10 kg weight
1.5ml for 20 kg weight
2ml for 30 kg weight
2.5ml for 40 kg weight
3ml for 50 kg weight
3.5ml for 60 kg weight
4ml for 70 kg weight
4.5ml for 80 kg weight
5ml for 90 kg weight
Hemp Seed Oil is also great for external use with animals. It alleviates dry skin, strengthens nails, is great for a sore cracked nose or paws, and helps relieve joint pain.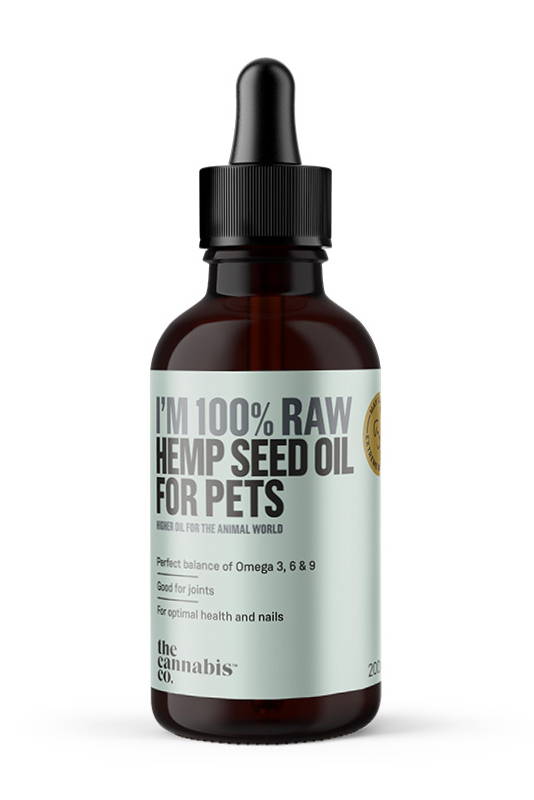 ---
FROM LITTLE TREES BIG MUSCLES GROW
---
One of nature's best sources of strength, hemp seeds provide us with high-quality plant protein. This high-fibre protein supplement can be used to enhance total protein intake for vegans and non-vegans alike. Hemp is considered a superior protein source due to its above-average digestibility, which makes it ideal for athletes.
Hemp Protein is packed with branched-chain amino acids, which are vital for good health. With a much stronger nutritional profile than pea protein, our Hemp Protein powder contains all 20 amino acids, including the nine essential amino acids that your body is unable to produce on its own and must obtain from dietary sources. Amino acids are the building blocks for all protein in our bodies, and hemp provides them in a perfect package for maximum absorbability, meaning you get the most from your protein intake.
Containing albumin and edestin (both classified as "globular proteins"), Hemp Protein is superior to other protein sources for promoting muscle development since it's so easy to digest. Hemp protein is also free of oligosaccharides, substances which can cause gas and stomach upset.
Additional benefits of hemp protein include immune-enhancing and anti-fatigue properties. Hemp protein powders are rich in fibre, a nutrient that has many valuable health-promoting properties. It's a good source of iron and calcium and also contains a variety of other nutrients, including B vitamins, magnesium and vitamin E.
Hemp protein can be added to many foods, smoothies or baked into food as an ingredient.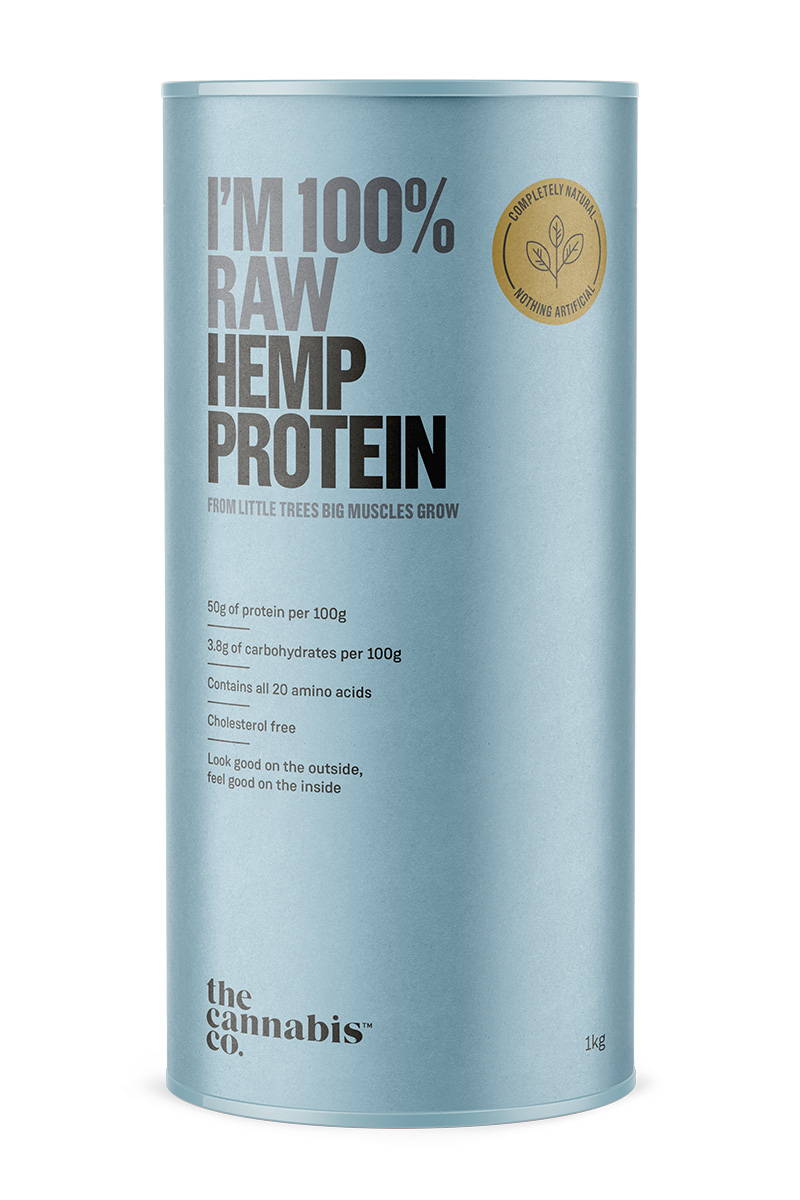 ---
THE HEALTHIEST ALL PURPOSE FLOUR IN THE WORLD
---
Health-conscious bakers dream about our Hemp Flour! Plant-based and naturally gluten-free, Hemp Flour is a versatile All-Purpose Flour which is much better for you than boring old white flour (and contains more than double the protein content). With a delicious nutty flavor, it's an excellent addition to dishes both savoury and sweet.
Every 100g serving contains 23g of protein, 55g of dietary fibre and heaps of essential fatty acids, with the perfect balance of Omega 3 and Omega 6 – learn more [link to The Health Benefits of Hemp page]. It's also rich in Vitamin B6, Vitamin E, calcium, iron, folate and magnesium, phosphorus, niacin, riboflavin, thiamin, beta-carotene, potassium and lots more.
Use as a substitute for any recipe that requires all-purpose flour. Remember though, if you're using it for bread or anything that needs to rise, you'll have to mix it with another flour at a ratio of about 4:1.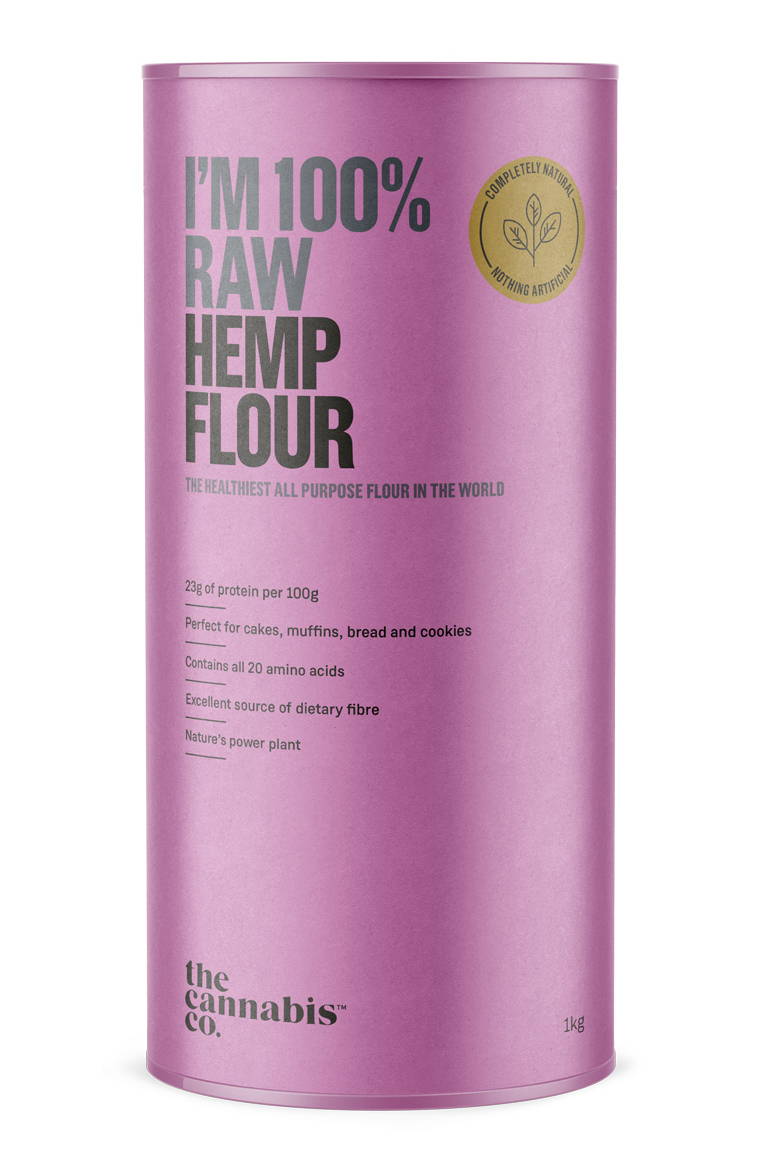 ---
A MAGAZINE FOR CANNABIS LOVERS
---
"Broccoli is the international magazine created by and for women who love cannabis. Offered free of charge, Broccoli explores and shapes modern stoner culture by looking at cannabis through a global art, culture and fashion lens. Broccoli gives cannabis a dedicated space to be discussed in a fresh, stylish and approachable new way."
We are absolutely head-over-heels in love with Broccoli. The high level print quality and design aesthetic are matched by the insightful, humourous and thought-provoking content, which is unsurprising considering the magazine is the brainchild of Anja Charbonneau. The former Art Director of Kinfolk Magazine has brought her impeccable design credentials to this new venture and the results are excellent.
The Cannabis Company feels a strong affinity with the project and purpose of Broccoli Magazine, as they are likewise committed to elevating cannabis from its somewhat hackneyed characterisation of yesteryear while maintaining the easygoing outlook central to our culture. We're honoured to help spread the word in our little corner of the world.
*Note: although the magazine is free of charge, the cost of shipping it to Australia came (quite hilariously) to almost exactly $4.20 per copy. As such, that's what we're charging for it. We would recommend ordering together with some friends in order to minimise additional shipping charges, or alternartively, order the magazine together with other products to get best value.
Guaranteed to soothe troubled minds and massage creative souls with intelligent content and beautiful design. Nourish your sense of global community!
Herbal relaxation methods are highly recommended as an accompaniment to Broccoli Mag.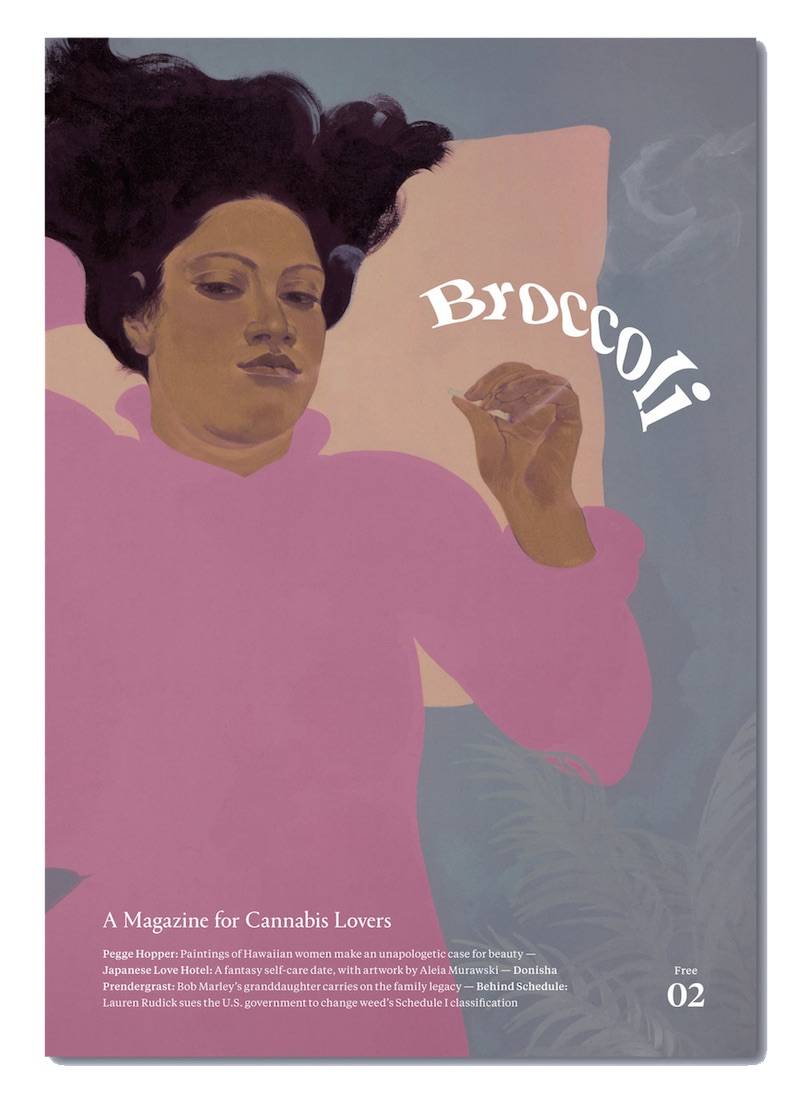 ---
HEMP SEED & FLAX OIL FOR PETS

THE ULTIMATE POWER ARMOUR FOR PETS
---
The ultimate power armour for pets! Hemp Seed & Flax Oil is an excellent short-term supplement to animal diets. The addition of flax means increased Omega 3, while the oil pressed from the hull of the hemp seed means an increase in fibre, protein and amino acids. While our Hemp Seed Oil For Pets[link] is best for daily use, Hemp Seed & Flax Oil will elevate the health of your pet during those times when they need an extra boost. Very helpful for animals suffering from anxiety disorders, as the increased levels of tryptophan are a precursor to producing serotonin, a neurotransmitter which helps regulate mood, sleep, memory, social behaviour, appetite and digestion. Many studies demonstrate links between depression and a lack of serotonin. We're so confident in this product that we guarantee you'll see a difference by the end of the bottle...or your money back. Bet your last dealer didn't say that.
Packed with Omega 3 and Omega 6 in the perfect ratio (3:1), this is great news since animals need fatty acids just the same as humans do. Helps prevents skin disorders such as dry nose, acne, eczema, rash and dandruff, and can also enhance blood circulation. Plus, it can thicken fur texture and lessen shedding, so our animal friends look their best!
Contains 100 doses, suitable for a 3 month supply. For best results, place drops directly into your pet's mouth, ideally under the tongue. Not advisable to add to skin: Hemp Seed & Flax Oil is bot as smooth and refined as our cold-pressed Hemp Seed Oil For Pets, which is ideal for topical use.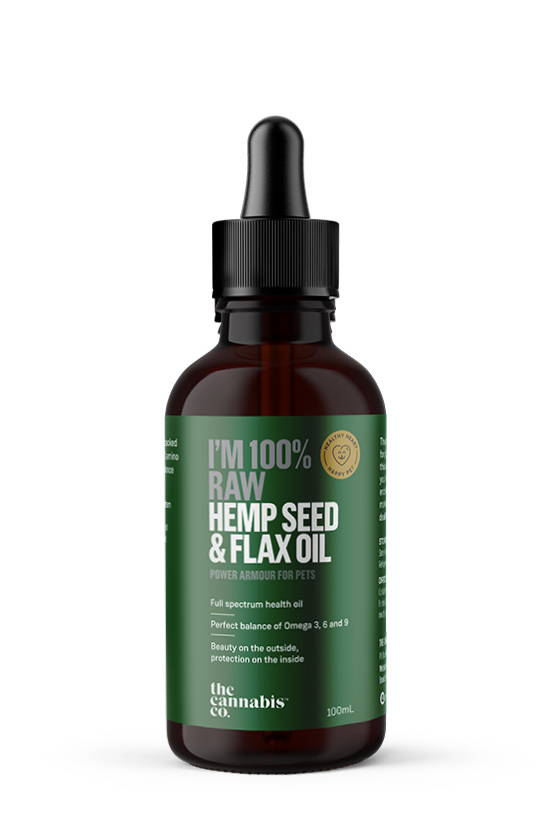 ---
---
Munchies for pups! The healthy alternative for your dog. Our furry mates don't need colouring or preservatives – what they need is abundant nutrition in a delicious snack. Packed full of protein, with the perfect balance of omega fatty acids, doggo will enjoy these so much that you'll want to have a nibble yourself. These cannabiscuits are vegan and specially formulated for pupper's health from just two ingredients – hemp and chickpeas.
High in protein, iron and fiber, our cannabiscuits are a great source of Omega 3 and Omega 6 in a perfectly balanced ratio of 3:1, meaning pooch can get the most! Containing all 20 amino acids, these biscuits are also a source of calcium, B vitamins, magnesium, vitamin E and a variety of other nutrients.
Present to pooch on a silver dish. Or just chuck it to 'em straight from the packet!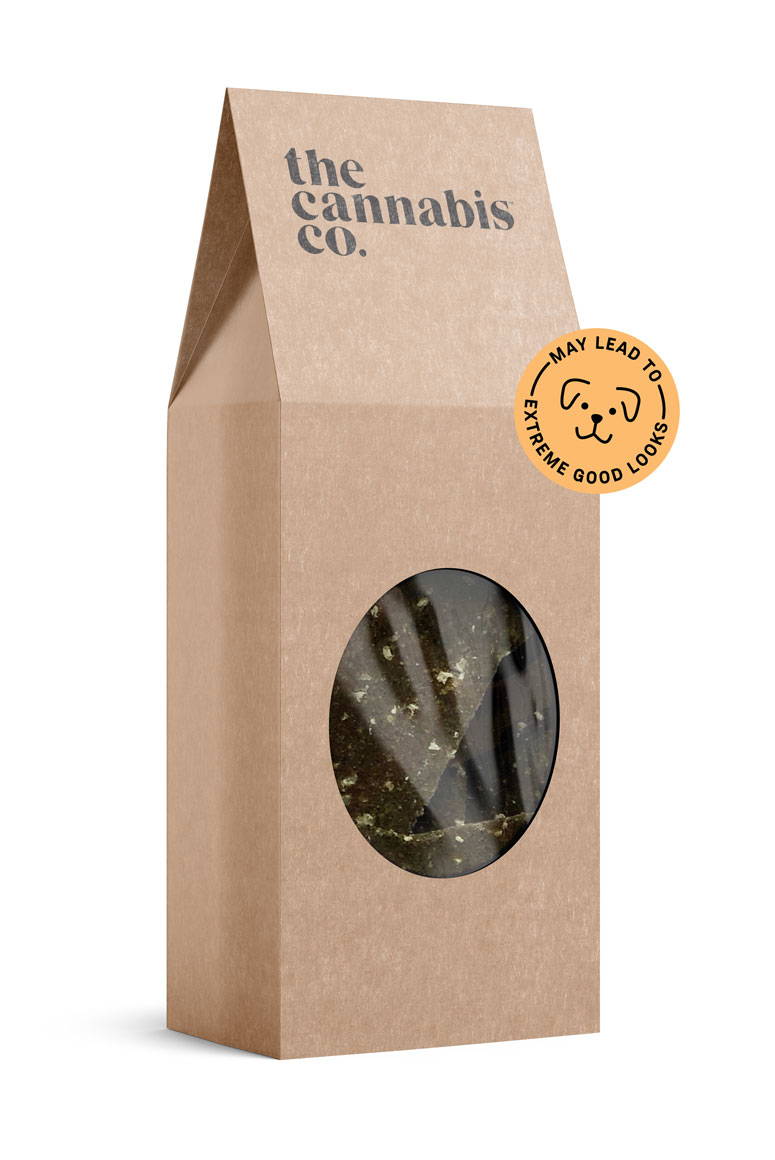 ---
WILL RESULT IN MORE RELAXED WALKS. POSSIBLY.
---
These 100% hemp dog leashes are anti-bacterial, eco-friendly and hypoallergenic. They're also very durable, due to Hemp's natural strength. For good dogs only!
Will result in more relaxed walks. Possibly.
Just clip it on and off you trot!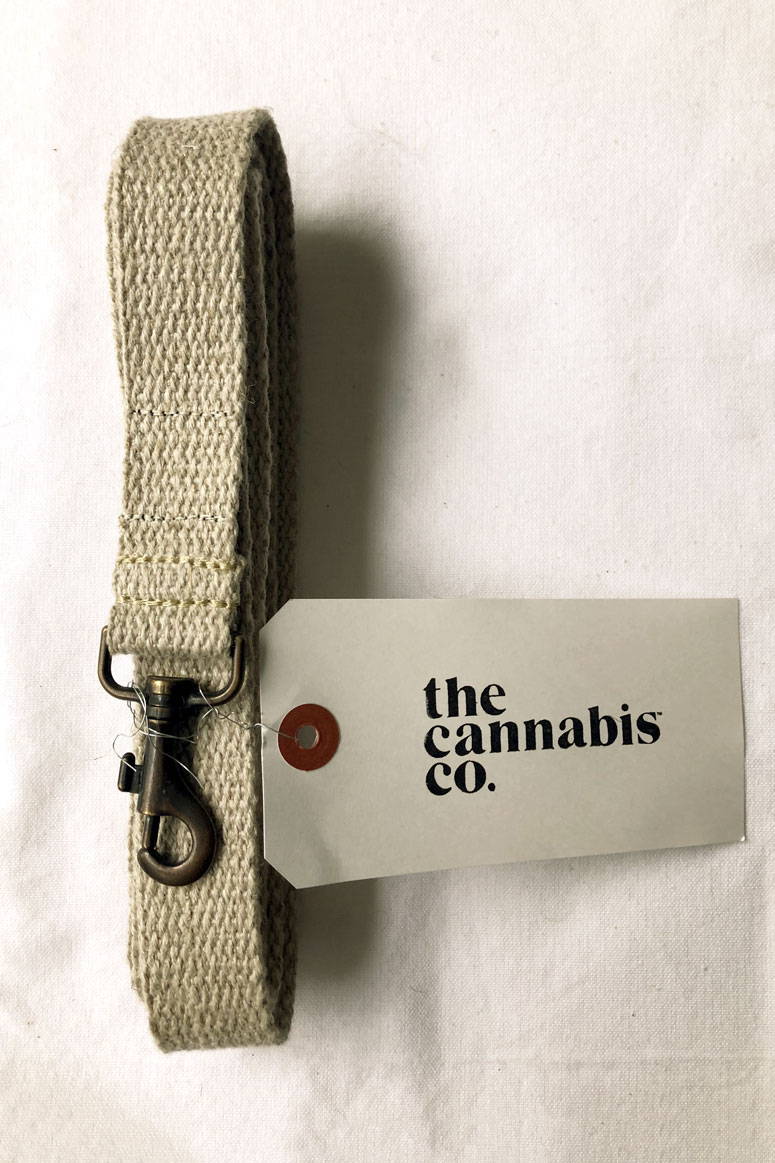 ---
---
[Two sizes - 12mm and 20mm] Our 100% hemp dog toys are anti-bacterial, completely biodegradable, eco-friendly and hypoallergenic. They're also very durable, due to Hemp's natural strength. Dogs go absolutely bananas for these toys, probably because they're unprocessed and have a wholesome smell – just like ropes from hundreds of years ago. For smaller breeds, get the 12mm one – for larger, the 20mm.  
Just give it to doggo - they'll know what to do!